On October 20 and 25, a selection of Represent PA's 2022 endorsed candidates participated in online panel discussions and shared their experiences on the campaign trail:
Sara Agerton, HD-88 (Cumberland)
Lisa Borowski, HD-168 (Delaware)
Tarah Probst, HD-189 (Monroe, Pike)
Cathy Spahr, HD-160 (Chester, Delaware)
Melissa (Missy) Cerrato, HD-151 (Montgomery)
Jill Dennin, SD-24 (Berks, Montgomery)
Gwen Stoltz, HD-143 (Bucks)
Anna Thomas, HD-137 (Northampton)
Award-winning journalist Lucy Noland spoke individually with each candidate prior to the
events and expertly facilitated the group discussions. She began each event by emphasizing
that the upcoming November election is no ordinary mid-term. Midterm elections traditionally
have lackluster turnouts, but as we now face real threats to our reproductive and voting rights,
and to our democracy overall, it's never been more important for all Democrats to vote.
When asked what voters were saying as they go door-to-door, the candidates all said
reproductive rights, the economy, and threats to our democracy, were the issues they heard
about the most. Gwen Stoltz talked about how reproductive rights is not a partisan issue – she
heard from Democrats and Republicans alike who were fearful of the extreme, anti-choice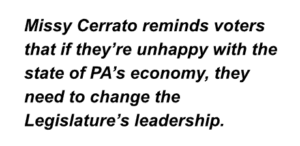 agenda of the GOP. Indeed, during her field work, Tarah Probst met a number of Republican women who said they will vote Democratic due to this issue.
Voters also expressed concern with the state of the national economy. The candidates generally redirect these discussions back to a focus on Pennsylvania, and what can be done to improve policy at the statewide level. Missy Cerrato reminds voters that if they're unhappy with the state of PA's economy, they need to change the Legislature's leadership, which has been in the hands of the GOP for the past few decades. As Lisa Borowski pointed out, with the Republicans in charge, there has been no political will to crack down on corporations or raise the minimum wage for PA workers. Sara Agerton reminded voters that investing in the state's infrastructure, which has been ignored by the GOP and roundly supported by Democrats, would bring economic benefits throughout the Commonwealth.
The threats to our democracy and the growing extremism of the GOP are issues all the candidates are hearing in their face-to-face exchanges. Jill Dennin has heard voters decry the
rise of Christian nationalism and fascism and how these are impacting a number of local school
boards. According to Cathy Spahr, simply mentioning Doug Mastriano's name in her conversations was enough to uncover voter concerns with GOP extremism from all sides of the
political spectrum. When the threat to voting rights comes up in discussion with voters, Anna Thomas emphasizes that state elections are not like their national counterparts. As Anna points out, there is no state electoral college and that means every individual vote counts, one-to-one, in statewide elections.
All the candidates relayed how support from Represent PA has been critical to their campaigns.
Early investments from Represent PA communicated to the electorate that their campaigns were
legitimate and helped pull in more donors. It allowed candidates the resources to round out their campaign team and reach out to voters with mailers and digital communication efforts. It allowed them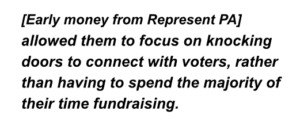 to focus on knocking doors to connect with voters and get their messages across, rather than having to spend the majority of their time fundraising.
With just two weeks left before the election, there's still plenty to do. What can you do to help? Volunteers to assist candidates with door-to-door canvassing are always welcome. As well, continue to donate what you can – this is a critical time for TV advertising, by far the biggest budget item remaining in each candidate's campaign.
Most importantly, you need to cast your vote (whether by mail or in person) by Tuesday, November 8 for ALL the Democratic candidates on your ballot – and ensure that all your like-minded friends and family do the same!
Resources:
Click here to learn more about Sara Agerton, and here to donate.
Click here to learn more about Lisa Borowski, and here to donate.
Click here to learn more about Tarah Probst, and here to donate.
Click here to learn more about Cathy Spahr, and here to donate.
Click here to learn more about Missy Cerrato, and here to donate.
Click here to learn more about Jill Dennin, and here to donate.
Click here to learn more about Gwen Stoltz, and here to donate.
Click here to learn more about Anna Thomas, and here to donate.