On September 27 our Breakfast Briefing hosted representatives from Red, Wine & Blue and the Education Voters of PA to talk about crucial issues affecting public education today.
Ronna Dewey, the PA Program Director for Red Wine & Blue started off with a discussion of school board extremism that has infiltrated many school districts throughout the Commonwealth, including a number of suburban districts outside Philadelphia. Groups like Moms for Liberty, which are leading the charge on banning books and creating hostile environments for LGBTQ+ children, portray themselves as "apolitical Moms." In fact, they are funded and supported by outside groups with extremely conservative political agendas, such as the right-wing Goldwater Institute and Vermilion Education.
The danger of book bans goes beyond taking certain books out of school libraries. As Dewey points out: "We're also talking about teachers, librarians and curriculum supervisors being afraid to introduce books into the school because they are afraid of the backlash."
In addition to book bans, school board extremists and their supporters have:
passed a "patriotic clothing" policy that allows students to wear confederate flags and other divisive and hateful symbols (Norwin School District);
proposed policies banning trans students from competing in sports or using bathroom facilities consistent with their gender identity (East Penn School District);
created a hostile environment for LGBTQ+ students and retaliated against teacher support for a transgender student, according to ACLU complaints (Central Bucks School District); and
passed the Vermilion Education 1776 Project History Curriculum 2023, which downplays racism, the Great Migration and the power of the Ku Klux Klan (Pennridge School District).
Share this!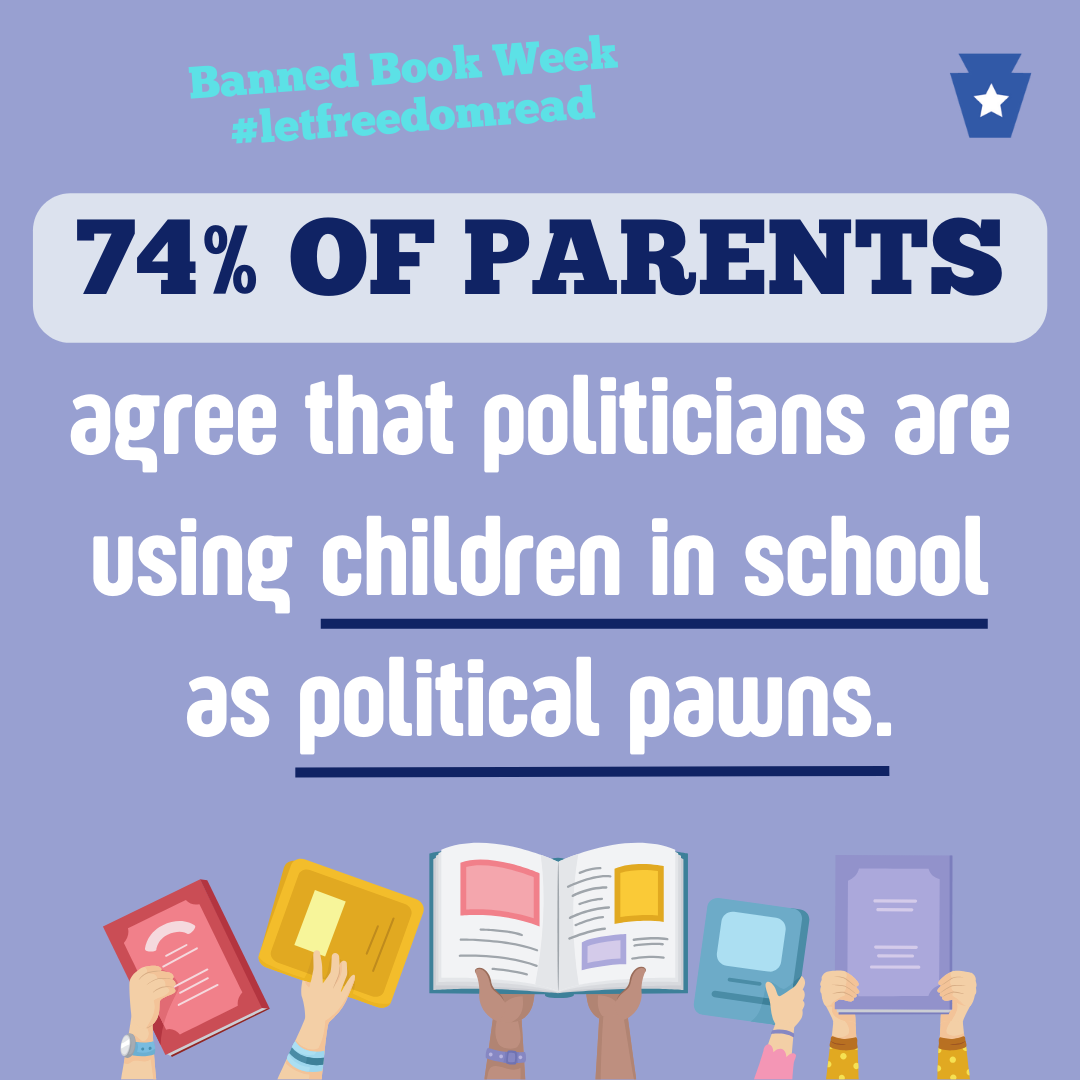 Ronna shared the above statistics during our Breakfast Briefing. These are based on an Ipsos poll conducted between August 19-22, 2022.
Funding for public schools was the next topic and it was led by Susan Spicka, Executive Director of Education Voters of PA, a nonprofit organization working to ensure that support for quality public education is a top priority for key decision makers.
Spicka began by stating that we are living in the single most important moment in anyone's lifetime for children in Pennsylvania. The Commonwealth Court's decision last year that Pennsylvania's school funding system is unconstitutional has resulted in the formation of the Basic Education Funding Commission that will decide on next steps. It's a 15-member commission made up of 12 legislators from both houses, evenly split between the two parties, as well as three appointees of the Governor.
According to Spicka, Governor Shapiro's recent support of school vouchers was a real threat to an equitable public education system. PA Democrats succeeded in getting the Governor to back down, but Spicka warns this is only a temporary pause in the school voucher issue. Those who want to dismantle public education and sap the voting strength of teacher unions will continue to fight for this. School voucher or school choice initiatives always start small for targeted students. However, as seen in states like Arizona where they now have universal vouchers, these programs often expand and chip away at public school funding.
Indeed, Pennsylvania already has a small program known as the education improvement tax credit, which provides tax credits to individuals and businesses for contributions to eligible scholarship programs. As Spicka pointed out, there is very little accountability for these types of "scholarships" and most have benefited conservative Christian schools.
Actions We Can Take
Stay focused on our school board and other local elections

Talk to our friends and families about the issues affecting our public schools. Red Wine & Blue has an online "

relational organizing

" tool that can help.

Send letters and postcards to the Basic Education Funding Commission. Education Voters of PA has a

one-page summary that can help

.

Support Represent PA

and help us in our effort to elect more Democratic women and flip the PA Legislature so that public education can become a top priority
Watch the full Breakfast Briefing here:
– Karen Gelman